Make your pioneering ideas a reality
Take advantage of the prototyping speed, amazing design freedom and straightforward workflow of 3D printing, and combine it with the precision and performance of Two-Photon Polymerization (2PP). So nothing can stop your ideas in nano-, micro- and millimeter scale. Benefit from wafer-scale batch production up to 6" wafers and with print volumes of up to 30 cubic centimeters in one pass.
We are ready to help you decide on a microfabrication system that fits your application scenario. Get first ideas on these pages for applications in scientific research, in industrial mastering for subsequent high-volume production and in industrial manufacturing.
Scientific microfabrication for pioneering innovations
For science and research, the Nanoscribe technology of 2PP-based microfabrication has matured into a truly key technology. Our specialized scientific microfabrication systems enable new research designs to be accomplished and drive innovation in virtually all areas of science, thanks to their exceptional versatility, compatibility with a wide range of printable materials and user-friendly software tools.
Enter the world of cell culturing, tissue engineering, live cell printing, biosensing, biomedical devices and more
Master the world of microfluidic structures for filtering, mixing, pumping, measuring up to lab-on-a-chip concepts
Go beyond classic microoptical designs and print aspherical, diffractive, hybrid, freeform and compound microoptics
Drive the miniaturization of optical and optoelectronic components for sensing, imaging and optical data processing
Taylor material properties by material composition and geometric design, with no manufacturing constraints
Open up the world of micromechanical parts, moving or rotating devices and micro-electro-mechanical systems
Industrial mastering for efficient high-volume manufacturing
If you plan to set up high-volume production for complex-shaped 2.5D structures, our Quantum X system based on Two-Photon Grayscale Lithography (2GL®) is an ideal tool. The master templates are a perfect fit for various high-volume replication processes. Their unmatched precision and accuracy can be transferred to mass production of e.g. diffractive optical elements, freeform or hybrid microoptics, patterned functional surfaces and microfluidic systems. Learn more about appropriate replication technologies.
Mastering and replication
Transfer novel 2.5D designs with unmatched precision and accuracy to high-volume production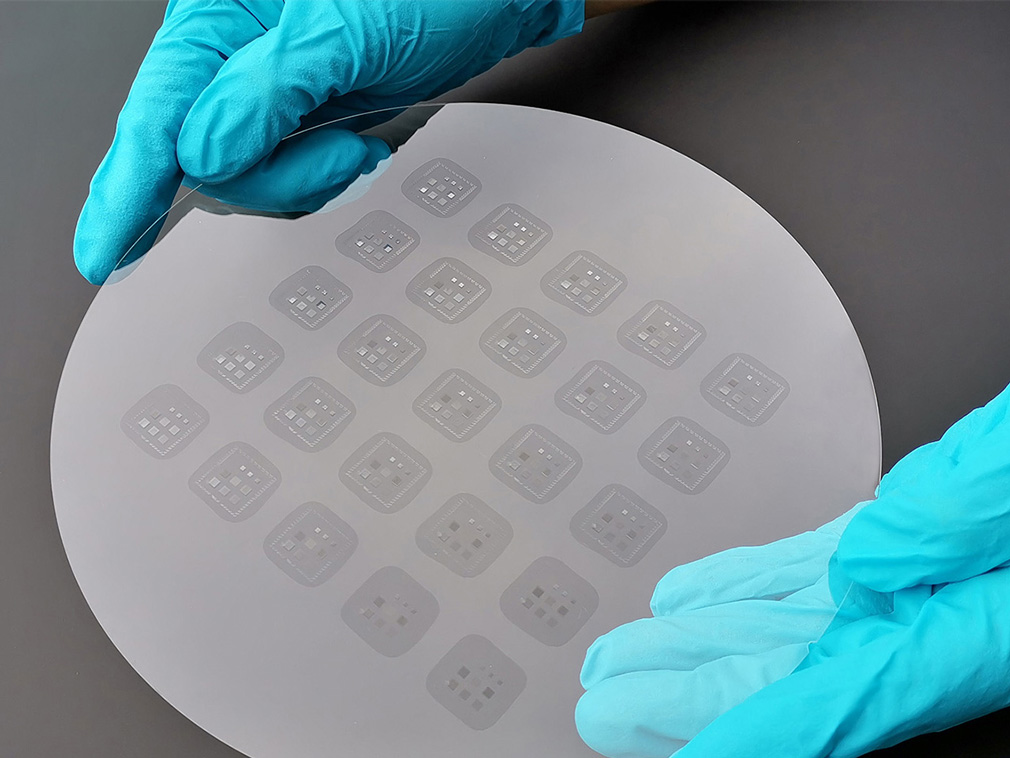 Take advantage of nanoscale features and an industry-proven technology for wafer-level production
Benefit from the scalability of injection molding down to submicron features and really high volumes
2.5D refractive microoptics
Apply the design freedom and optical quality of 2GL for truly outstanding optical concepts
2.5D diffractive microoptics
Fabricate multi-level DOEs in one step, as prototypes for direct use or master for tooling in series production
Industrial manufacturing solutions for photonics packaging
Our highest resolution 3D printer with 3D printing capabilities aligned in nanoprecision also feature automatic tilt correction, ensuring lowest coupling losses when printing microoptical components directly onto optical fibers and photonic chips. Let us inspire you with new manufacturing possibilities for applications in photonics packaging, optical sensor systems, MEMS or microfluidics.
Photonics packaging
3D print efficient miniaturized imaging optics or optical interconnects for photonic integration
Photonics assembly service
Benefit from the manufacturing service for 3D printed lensed fiber arrays provided by our partner PHIX B.V.
You need more precise facts?
In addition to this brief overview of applications, in our premium section we provide you with even more detailed information about applications.
Have access to hundreds of research projects with innovations that our customers have realized with our 3D Microfabrication systems. Via a keyword-underpinned database you find scientific publications of our customers in your specific application area. Make use of the tool to gather valuable know-how and background information about various applications.
Register for our premium resources and discover more application options for free.